Join #TeamNoTill for NO-TILL NOVEMBER!
The Delaware Conservation Partnership is encouraging farmers to join "team no-till" this fall—by leaving the residue on harvested crop fields to improve soil health during No-Till November. 
Improving soil health increases soil biological activity, which provides erosion control, nutrient benefits, reduces soil compaction and improves water quality.
The "#team no-till" campaign recognizes those farmers who are practicing no-till and to invite the rest to keep tillage equipment at bay this fall and keep the crop stubble on their fields.
This month, Delaware farmers are invited to share their beneficial experience with no-till  and receive a free #teamnotill gaiter! There are 4 ways to participate:
Fill out the contact form at the end of this page.
Send a short sentence and a photo of yourself and/or your operation to NRCS Public Affairs Officer at Dastina.wallace@usda.gov
Post your photo to social media with the hashtag #teamnotill. 
Reach out to your local USDA Service Center or Conservation District and talk with your Ag Conservation Planner or Soil Conservationist.
Here are a few resources where you can learn more about the benefits of no-till farming: 
As world population and food production demands rise, keeping our soil healthy and productive is of paramount importance. By farming using soil health principles and systems that include no-till, cover cropping and diverse rotations, more and more farmers are actually increasing their soil's organic matter and improving microbial activity. As a result, farmers are sequestering more carbon, increasing water infiltration, improving wildlife and pollinator habitat—all while harvesting better profits and often better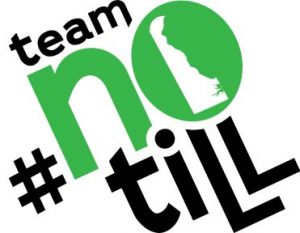 "According to Aldo Leopold, 'Land is not merely soil, it is a fountain of energy flowing through a circuit of soils, plants and animals.' Through the use of the foundational conservation practice of No-till farming, Delaware farmers will improve soil health and enhance water quality all while saving time and money." 

– Kasey Taylor, State Conservationist, USDA Natural Resources Conservation Service (NRCS)
Request your #TeamNoTill Gaiter
Delaware farmers can request a free #teamnotill gaiter- simply share a sentence about why you use no-till management and provide us with your mailing address, and we'll send one out to you.
Help us spread the word! Take a selfie in your spiffy new gaiter and share it on social media using the hashtag #teamnotill, or send us a photo and we'll do it for you!
#TeamNoTill Campaign Partners: