The Delaware Conservation Partnership is committed to supporting education and outreach efforts that teach people of all ages about the importance of conservation and our natural resources.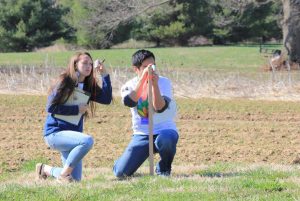 The Delaware Envirothon is an annual competition for high-school-age students to train and learn about natural resources, including forestry, soils and land use, aquatic ecology, air quality, wildlife, public speaking, and an additional "current topic" selected each year. The winning team from Delaware goes on to compete in the North American NCF Envirothon. 
Click here to learn more about the Delaware Envirothon.
At The Delaware State Fair
Conservation Partnership Exhibit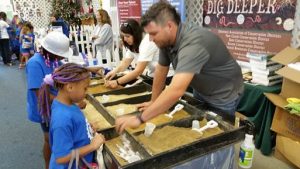 The Delaware State Fair is a great opportunity to learn about agriculture and natural resources! Every year, Delaware's Conservation Districts share an exhibit with the Natural Resources Conservation Service in the Agricultural Commodities Building.
In 2019, the theme of the exhibit was "Life in the Soil: Dig Deeper" and participants were invited to make their own soil profile to take home. The theme changes every year, but there's always a fun and educational activity for kids!
Another popular feature at the Delaware State Fair is the 4-H Exhibits. DACD is proud to sponsor the awards for the Conservation, Landscaping and Natural Resources Exhibits. You can learn more about 4-H and how to exhibit at the Delaware State Fair by visiting the 4-H website here.
Here are entries to the exhibit in 2019:
Soil and Water Stewardship Week
According to the National Association of Conservation Districts' website, "NACD Stewardship Week is one of the largest national programs to promote natural resource conservation. Celebrated annually since 1955 between the last Sunday in April and the first Sunday in May, NACD Stewardship Week reminds us of our individual responsibilities to care for natural resources."
Governor's Conservation Awards and Stewardship Week Declaration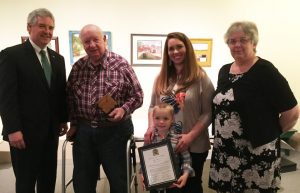 Every year during Stewardship Week, DACD hosts the Governor's Conservation Awards to honor exceptional agricultural and urban conservation practitioners and projects in each county. The governor also recognizes the Legislator of the Year for conservation and signs a declaration to recognize a Delaware Soil Stewardship Week.
At left is Alfred Moor, Jr. and his family, along with DNREC Secretary Shawn M. Garvin. Mr. Moor was the Kent Conservation District's 2019 Agricultural Conservation Award Recipient.
Make-a-Splash is an annual festival for fourth grade students to learn about Delaware's water resources and estuaries. At left is Rick Mickowski, Conservation Planner and Public Education Coordinator at the New Castle Conservation District, demonstrating the Enviroscape model, a hands-on demonstration about the sources and effects of water pollution.
Learn more about Make a Splash in this article about the 19th Annual Make a Splash event in 2019.
Delaware's Conservation Districts have hosted soil health workshops and field days since 2014. Find more resources about soil health here at our "Every Acre Counts" page.
Below, the Sussex Conservation District and partners host field days and a soil health session at Delaware Ag Week.
Learn more! Visit our Resource Library for information and materials from past events, including wetland restoration, soil health and cover crops!